About RememberEthan.info
This site is set up by Ethan's parents, Jason and Christine. 2014 was the best and worst year of our lives. In April we were blessed with a beautiful baby boy; we named him Ethan because it meant strong. 10 days before Christmas, there was a tragic accident and Ethan lost his life on December 16th. One month after our son passed away, we were out to dinner and saw a woman and little boy enjoying dinner. We decided that we would secretly pay for their dinner in Ethan's memory. That morphed into creating cards which we could pass on when completing a random act in Ethan's name. We began performing a bunch of random acts and passing out the cards. We sent cards to our friends and family who also began dispersing them. Then we thought, 'wouldn't it be nice to somehow track other's stories about the cards?' That's when we decided to start making this website, in hopes that others would share their stories.
---
Ethan's Story
April 28th, 2014, our little bundle of joy entered the world.


He spent his first 8 weeks at home with mommy; well, when mommy wasn't in the hospital getting her appendix removed.



During that, he spent a lot of time with Grandma and Grandpa, too.

After that, it was on to daycare and a whole new world. He made lots of friends and even started flirting with his first girlfriend.


Over the summer, he got to visit his Great Grandma

take his first trip to an amusement park

visit with his cousins


and attend his first CornFest with his best friend Sammy.


In October, he went international with a trip to Toronto, Canada.

He really enjoyed Ripley's Aquarium!


The next weekend, he went on a road trip and saw both sets of grandparents in two days.


Shortly after that, we decided it was time to get his hair cut, since it would go below his nose when you held it straight.

 

 

 

 

 

Wow, what a difference that made!

From there it was on to Halloween, when he went "trick or treating" to our neighbors as our Little Lion Man.


In November, he got to see his Great Grandpa and the farm he lived on.




He was less impressed with the horses but loved meeting his Daddy's cousins and their kids.


We were getting so excited for his first Christmas. He loved the tree and was constantly trying to get to the lights.
He even got a chance to sit with Santa.

---
But on December 15th, tragedy struck. Ethan stopped breathing during a nap at daycare. He was rushed to the hospital where they got his heart beating again. He was transferred to the PICU at Gallisano Children's Hospital. The doctors there worked on him for nearly 8 hours, trying to get him breathing on his own again. They were attempting to get a CT scan, but first, they had to get his heart rate down and his blood pressure up. It was around 2 a.m. that the doctors came to us with, ultimately, the biggest question of our lives. They could continue trying to work on him, but with every hour that went by, the chances of him having any quality of life were getting more and more slim. Friends and family came to say their goodbyes, we read Goodnight Moon to Ethan one more time, and at around 3 a.m. December 16th, 2014, our little angel sprouted his wings...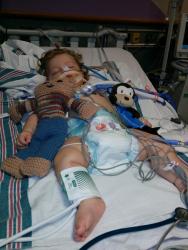 While his life may have been short, his spirit will continue on. He was such a happy person and people stopped everywhere we went to talk to him. We always imagined him being a strong, gentle, caring and happy person who would genuinely change the world for the better. As his parents, we feel that it is our mission in life to make sure that Ethan's legacy lives on. And so his spirit is carried on via Random Acts in his name. This website was created in order to share those experiences.
Carry on our little angel...you are forever in our hearts...